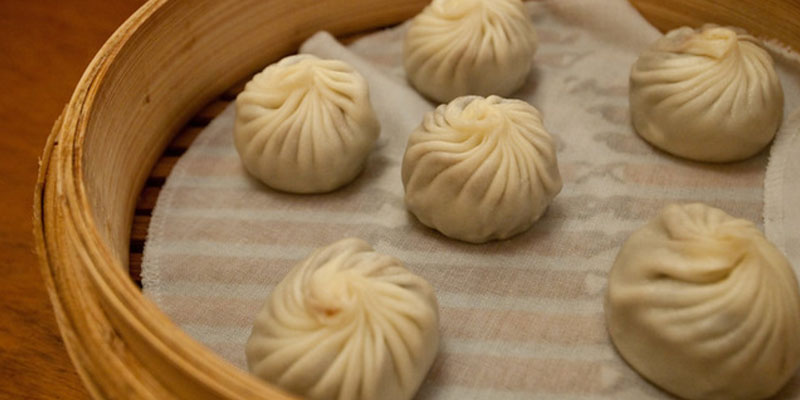 What A Local Orders At Ding Tai Fung | TourMeAway Blog
Ding Tai Fung (DTF), a once oil merchant turned Michellin star restaurant, enjoys worldwide reputation for good food + excellent service, and is expanding its brand to Tokyo, Seattle, Singapore, London and more. (Interested in Ding Tai Fung's history? Want a look into the multi-cultural food battlefield that is Taipei? Join TourMeAway's Chill Out tour to find out more!) If you follow our tour to DTF's founding store, you'll find it packed with tourists all fully willing to wait 90 minutes (believe it or not, they have an APP and a timer on their wall to let you know how many more lifetimes you'll have to wait) just for a good meal.

So, is DTF just a "tourist restaurant? Is it worth the time and the price? If you ask the locals, you'll probably get a 50-50 answer. Half of us would tell you that you can get any item on their menu in just about any other Taiwanese restaurant or night market. The other half, well used to the quality and ready to tell you about it, would say that yes you can find similar food elsewhere, but you get what you pay for. Sure, you can get a $20 shirt in Uniqlo and it would serve the same purpose as a $200 one from Burberry, but they wouldn't be the same. Ding Tai Fung enjoys its fame for a reason. DTF, put simply, is good GOOD good. *Italian chef kiss* I've had a number of experiences venturing outside my usual order when I visit my favorite restaurants and in many of those adventurous wanderings, I've regretted my choice.

This doesn't happen at DTF, which is why when my family and I pay our monthly (sometimes even weekly) visit to DTF, I always feel the urge to give tourists sitting next to us tips on ordering. Yes, I know DTF is renowned for their dumplings and there's nothing wrong with going on a full dumpling spree, but DTF has so much more to offer. So below are my personal recommendations and special culinary gems that I usually order. If you give it a try, it might just give you a whole new, mind-blowing insight on just how good Taiwanese food is *Taiwanese chef kiss!*:
Appetizers
Bamboo Salad (Summer Only)
For appetizers, my one true love is their bamboo salad. Bamboo shoots (little baby bamboo) are vegetables commonly seen on Taiwanese menu and cold bamboo salad is one of the most typical summer dishes we have. This dish is simple, just some chopped bamboo shoots with Taiwanese sweet mayonnaise. But simple dishes are the hardest to master. All focus goes to one ingredient, and that scrutiny demands skill. Bamboo shoots are tricky. They're easy to spot in bamboo forests but if you pick them too early or too late, they'll either be too bitter or entirely too rough and tasteless. This dish from DTF will raise your standards for bamboo shoots-- you'll know they're picked at the perfect time and they'll serve as your standard for bamboo quality forever. The texture is exquisitely crispy yet with a chew, and the natural flavor just dances on your tongue each time you bite in. If you've ever had raw asparagus that's extremely fresh, you'll probably be able to imagine just how refreshing this bamboo salad can be on a humid Taiwanese summer day.
Dumplings
Green Squash & Shrimp Xiaolongbao (Taiwan Exclusive)
Xiaolongbao, literally "soup dumplings in small steamers" in Mandarin, are no doubt DTF's most famous dish. Each cook in DTF has to go through a rigorous apprenticeship before they can pour their craftsmanship into the 15 folds on each dumpling (yes, each DTF xiaolongbao has exactly 15 folds). DTF xiaolongbao is the definition of the word delicacy. Now that DTF is expanding into international markets, foodies around the world can also have a taste of these renowned dumplings-- except for one flavor kept exclusive to Taiwan. Green squash is an Asian-native vegetable that tastes somewhat like a mixture of melons and cucumbers. The juice that a green squash releases when heated adds a refreshing flavor to the xiaolongbao, which not only complements the richness of the shrimp, but also reduces the greasiness of the broth. In this dish, DTF insists on using only Taiwanese green squash, which is unparalleled in its quality and juiciness; therefore this particular flavor of xiaolongbao can only be found in their Taiwanese branches.

Shrimp & Pork Pot Stickers
Pot stickers are basically flat fried dumplings and are theoretically similar to Japanese gyoza. One of the criteria used by Japanese foodies to judge whether gyoza tastes good or not is the crispness of the tsuki (羽根). I never really understood Japan's obsession with those excessive dry, feathered skin that sticks on the dumplings…. until I tried DTF's shrimp and pork pot stickers. This dish offers perfect tsuki, chewy dumpling skin, exquisitely balanced combination of fresh shrimp and pork stuffing and is topped off by its burning juice that will surely leave your tongue swollen and satisfied. If all of the above still doesn't convince you how good this dish is: My American niece (who usually refuses whatever food is given to her) shoves down 2 whole dishes of these (that's 12 of them!) every time she visits Taiwan.
Greens
Stir-fried Pea Shoots
Again, stir-fried pea shoots are an extremely common- household even- dish that can be found literally ANYWHERE in Taiwan. Pea shoots, literally "hollow-chested vegetable" in Mandarin, are native to Taiwan and southern China. Legend has it that the hollow-chested vegetable grew from the body of a loyal minister whose heart was torn out by the tyrant emperor he was assisting. No one knows if the legend is true, but this hollow feature surely gives the vegetable a crispy, uncommon texture, and has enchanted thousands of Japanese and Korean tourists into listing it as it a must-have vegetable for tourists from Japan and Korea.
Mains
Pork Chop / Vegetable and Mushroom Fried Rice With Egg
DTF's fried rice is no doubt the dish that I yearned for most during my study-abroad year-- I asked for it the moment my family picked me up at the airport. Their pork chop fried rice has always been my top favorite. Fried pork chops are commonly seen in Taiwanese bentos: They're similar to Bavarian schnitzel, but without the flour coating. This unadorned quality cuts down the calories (so you get to eat more!). DTF's pork chops are everything you could ask for: they're crispy on the outside, juicy on the inside and their on-point pepper seasoning complements the fried rice perfectly. Recently, when I'm feeling a bit self-conscious about not having enough greens in my diet, I order their veggie and mushroom fried rice, which is also VERY good and balances the meaty meal.
House Special Spicy Shrimp and Pork Wontons
Now, this is my private recipe: DTF's fried rice and spicy wontons are star-crossed soul mates locked in a secret love affair that only true gourmets know about. What you do with the lovebirds is simple: stir the wontons until they're thoroughly covered in spicy red oil,then reunite them with their beloved fried rice right there in your bowl. Beauty. And most importantly, before you eat-- stir the rice so that every single grain is dyed a crimson blush. The spicy oil (it doesn't taste as spicy as the redness would suggest, so don't be intimidated!) brings out the aroma of the egg and rice in the fried rice and upgrades it from a very good dish to something you will never be able to forget even if you try. Whenever my friends tell me they're eating at DTF, I make them swear they're gonna order this combo. They always come back grateful. I'm sure you will too.
Soups
Hot and Sour Soup
In Taiwan, instead of having soup as appetizers that open a feast, we complete a good meal by serving burning-hot soup. Again, it's a common dish in Taiwan and Southern China but there's something special in DTF's recipe that makes their hot and sour soup irreplaceable. The sliced tofu, carrot and chewy mushroom adds complex textures to the dark and slightly sour soup, and balances the peppered flavour. You might also want to try the spicy taste to complete your real "hot and spicy" adventure. Trust me, you'll want a refill once you finish your bowl. As mentioned in the beginning, DTF is a gourmet restaurant that never disappoints. The above list is just a collection of my personal recommendations for travelers who are feeling a bit lost in the sea of dishes that DTF offers. All the items are listed on their menu because they deserve to be there. They've earned their place, so don't stop yourself from venturing in and ordering things that aren't mentioned above-- the pride of Taiwan will never fail you. *Taiwanese chef kiss*