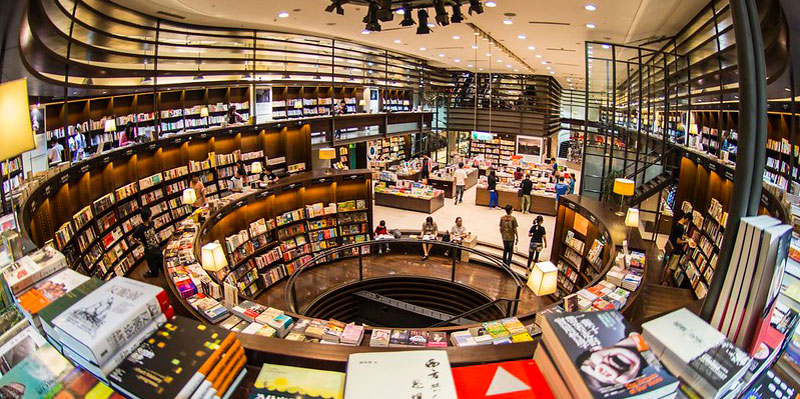 Eslite: Not Only Bookstores
Eslite: Not Only Bookstores
If you've read my previous blogpost, A Local's MIT Beauty Favorites, you'd know that the Taipei Xinyi district has the highest department store density in the world. In the ENTIRE world. In and amongst this whirring battlefield of retailers, one chain in particular draws the spotlight.
While it started off as a high-quality bookstore, Eslite is now a hipster, dandy even, composite chain that offers everything from chic-AF stationary to god-knows-how-much-they-cost wines. It's been dominating the "Most Coveted Company To Start A Career" university-graduate polls for years now, so Eslite absolutely prides itself on being extremely selective on what brands they display in their stores, and the two qualities that sit tip-top on their list of criteria are Creativity and Locality. So, if you're tired of globalistic, cut-and-paste consumer products, and if you feel like venturing into brands other than Lancome or Tom Ford, then Eslite Xinyi will be your best bet for finding high end products that you quite literally can't find anywhere else.

Now, let me walk you through three of my favorite Eslite branches in Taipei, and I suspect you'll be charmed enough to walk right into one of them, and breathe in the vibrancy of Taiwanese cultural creativity... and business savvy.
Eslite Xin-Yi
As I've previously mentioned, Eslite has transformed itself into a composite lifestyle department store, so sometimes you might forget that it was once a bookstore. But the Xin-Yi branch has kept a full three out of the five floors of its gigantic building as a bookstore, helping to maintain its well-established roots. The fact that a bookstore has managed to keep its firm footing in the Xinyi district -Taipei's most expensive area- is impressive enough. And just as much as it's deep-rooted persistence, the size, delicacy. and absolutely immense crowd it attracts every single day never ceases to amaze me.
As a bookworm, Eslite Xin-Yi is always my go-to attraction whenever I'm entertaining foreign friends. This branch gives them everything they're looking for in a book, as well as shop where they can pick up some well-packaged local foods and tea as souvenirs.

Location (Google Map)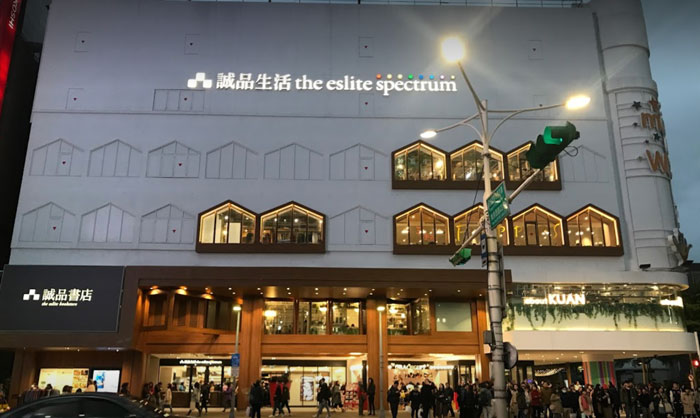 Eslite Nan-Xi
Now this branch is recently refurbished, making it the most up-to-trend and shopping-mall-like of the three. Don't get me wrong, like any other branch, the Nan-Xi store still preserves a big portion of itself as a bookstore. But it also bears a mixture of global, mainstream brands like Michael Kors and indie, local stores like Cha Tzu Tang (check out my previous blogpost to know more about local beauty brands). Truth be told, among the 3 branches recommended in this post, Nan-xi would probably be the least enjoyable for tourists if you're looking for "something different". However if you're planning on going on a full-on shopping spree, this branch will surely satisfy, as it offers both things you're familiar with, and goods that might serve as pricier souvenirs for loved ones from home.

Location (Google Map)
Eslite Song-Yan
Once a deserted cigarette factory, Song-Yan park is now... a bit of everything. The interior of the old factory has been refurbished into a series of art galleries that are packed with hipsters during the weekends. The plaza in the middle is where singers hold meetups and mini concerts. In the outskirts of the park there is now an artificial pond that attracts wild geese and all kinds of other wild animals, right in the middle of the hustling, bustling city of Taipei city! They get extra feisty and attention-seeking when it's raining, so beware. Geese are not your friends. If all of this doesn't surprise you, then let's up the game. In one corner of this versatile park stands another Eslite branch with two huge floors full of books, and also art/craft workshops. There's an enormous conference center, a movie theater that plays both Hollywood blockbusters and European niche films, and A F-ing HOTEL. A hotel, right there in the bookstore!

Location (Google Map)
Every time I pay a visit to this branch, I ask myself what sort of chaotic energy led to its existence (in harmony!). It's too cool not to revisit. Make sure you don't miss this gem of the concrete jungle.